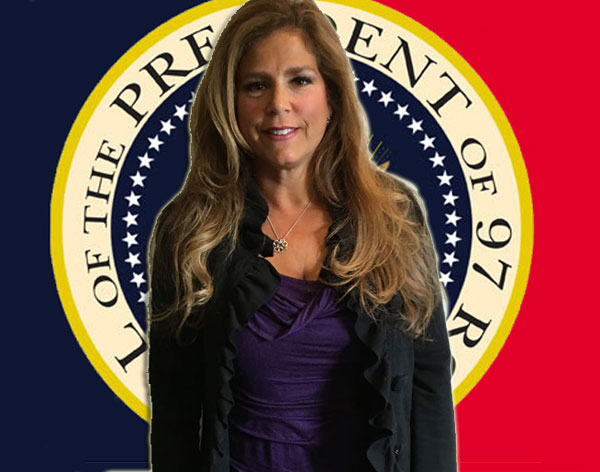 History was made when Jeanette Butera of Wheatfield was elected President of 97 Rock with over 1,800 votes.  Jeanette will earn the following Presidential Perks for her win:
One 3 hour radio show that you host on December 11th.
A custom fitted 97 Rock staff jacket from Aurora Imprints.
Tickets and ride in an Advantage Limousine to see Peter Wolf at the Tralf on November 11th.
An overnight stay at the Royal President Suite at Russell's Grand hotel, the official hotel of 97 Rock.
Dinner for two at Russell's Steaks, Chops & More.
Your own web page on 97Rock.com.
Line up your family, friends and coworkers to be the 97 Rock Employee of the Day every day for a week.
Sit in on Morning Bull Show.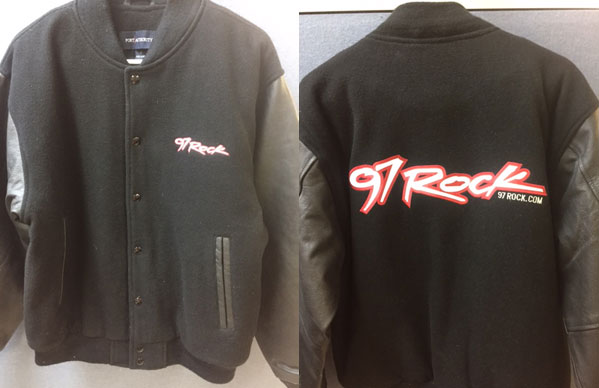 And thank you to all the Candidates: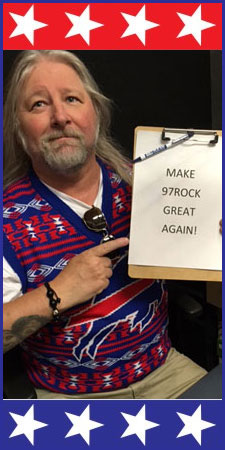 Curtis Arney of Orchard Park
Favorite artists: Pink Floyd
Favorite DJ: Jickster
Platform: Giveaway free beer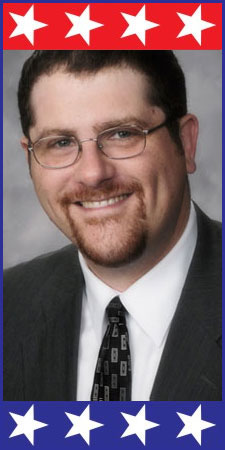 Josh Dubs of North Tonawanda
Favorite artists: The Eagles, Fleetwood Mac, Pink Floyd, The Beatles
Favorite DJ: J.P.
Platform: "Pro Choice – so pro call-in requests; Worker-Friendly – So I'm pro Employee-of-the-Day; Beatles for all!"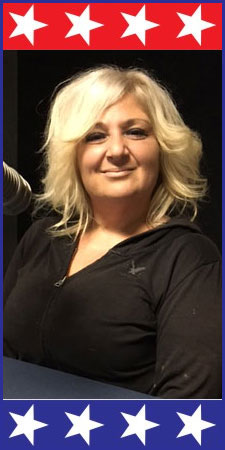 Jaimeelynn (Jovilynn) Richter of Clarence Center
Favorite artists: Bon Jovi..Journey Reo Speedwagon.. John Mellencamp..Foreigner…David Cook…Kiss…Def Leppard.. Poison…
Favorite DJ: Jp…Russo.. walters…Jim McGee
Platform: "If elected I would create the 97 Rock Star Fantasy camp… where 3 Times a year 97 Rock would have a week long program that would teach people how to be a rockstar and then have a 97 Rock show at a local venue at the completion of the camp allowing our Rockstars to debut with local band celebrities."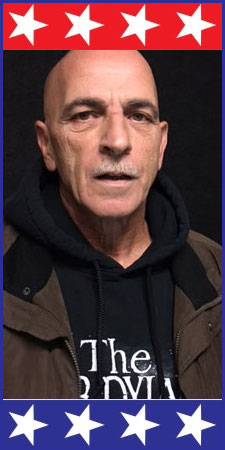 Billy V. Neudecker of Tonawanda
Favorite artists: Dylan, Genesis, Neil Young
Favorite DJ: Jickster
Platform: "Concert ticket give always every hour that day. CD give always that day. B sides 12 – 1. My FB page has close to 200 votes. Mystery guests that day, first one to call in with correct answer wins early Christmas gift. I'll have more ideas. Toy Talk segment. I'm a toy collector and would bring vintage toys and games."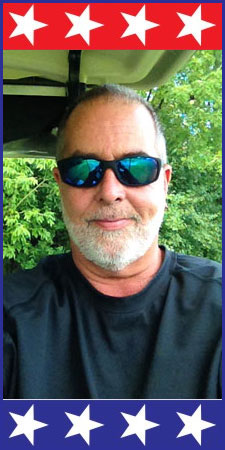 Brian Fries of Cheektowaga
Favorite artists: The Who, Aerosmith
Favorite DJ: JP
Platform: "Play more "B" sides and no repetition during the week."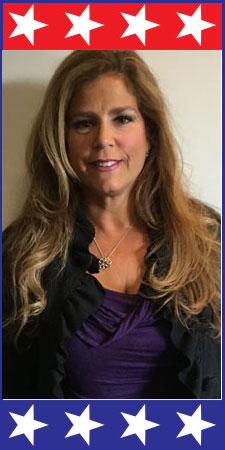 Jeanette Butera of Wheatfield
Favorite artists: Van Halen, Genesis, Aerosmith, Whitesnake
Favorite DJ: Anita
Platform: "The importance of keeping "classic rock" alive!!!"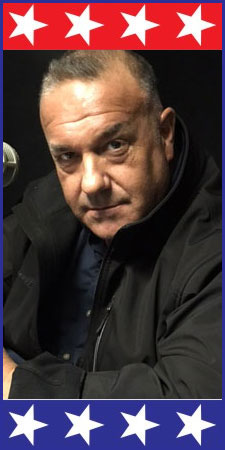 Johnny Mudd "The Mudd Man" of North Tonawanda
Favorite artists: Led Zeppelin, Peter Gabriel, AC/DC, Def Leppard
Favorite DJ: Carl Russo
Platform: "The Earth is FLAT, The Sun is Close Im the idea man, Mudd Mania in the morning! The Most Versatile Man Alive! Let The Games Begin!"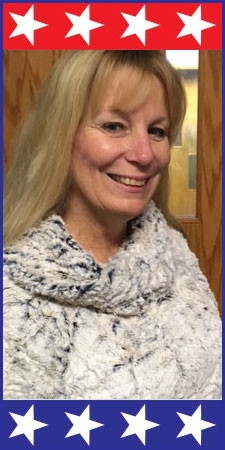 Nancy Standish of Buffalo
Favorite artists: Beatles, Skynard, Zeppelin, Heart, Queen, Segar, Stones, Floyd, Kid Rock, Joan Jett
Favorite DJ: JP
Platform: "A Chicken Wing in every POT, Try and give our great listeners more – Free Tickets ~ Choices of Rock Blocks~ Start a Movement to BRING BACK THE JILLS!!!"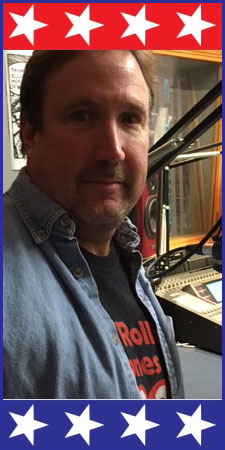 Jeff Bowerman of Tonawanda
Favorite artists: Led Zeppelin, Rush, The Who, Neil Young
Favorite DJ: J.P.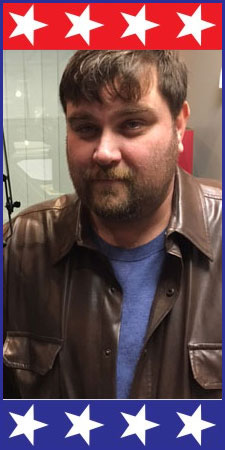 Shawn Patrick Greene, aka, FUDGE of South Buffalo
Favorite artists: Bob Dylan, The Doors, Pink Floyd, ZZ , Soundgarden, Staind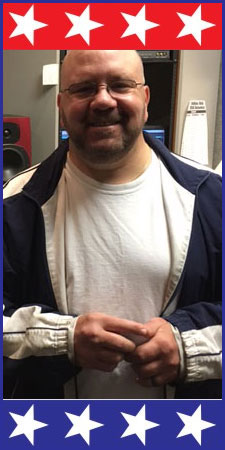 Thomas Slocum of Tonawanda
Favorite artists: Genesis, The Beatles, Springsteen, Van Halen
Favorite DJ: J.P.
Platform: "I would bring more music to the listeners while keeping the costs of listening down."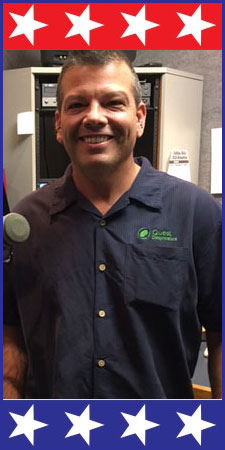 Timothy "Timmer" Spoly of Cheektowaga
Favorite artists: Led Zeppelin, Kiss, Pink Floyd, Lynyrd Skynyrd
Favorite DJ: Carl Russo
Platform: "To remove grunge bandsfrom the cladsic rock playlist. Play more hair metal bands and freedom to rock out with the radio on ten. Make. 97 Rock great again."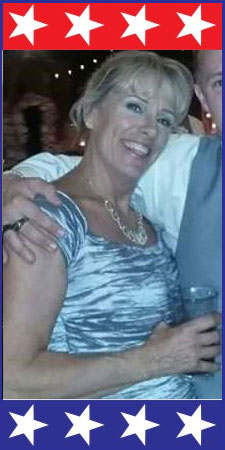 Dawn Flierl of Hamburg
Favorite artists: Rolling Stones, CCR
Favorite DJ: Rob
Platform: "As Mick Jagger once said you can't always get what you want but if you try sometimes you get what you need! And you need me to be President of 97 Rock to help make "Radio Great Again" and thats no BULL!!!! Thank you, Future President Dawn Flierl, aka Stella."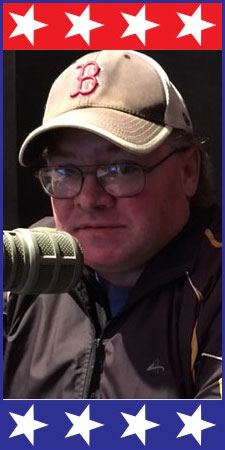 Tom Harris of Buffalo
Favorite artists: Heart, Burton Cummings, Styx, the Band, Tom Petty
Favorite DJ: Bull
Platform: "Dedicate more time to local talent, bring a music festival to downtown or New Era Field similar to the Taste of Country!! Bring more classic rock to Canalside and have listeners have a great deal of say of what goes on locally!!!"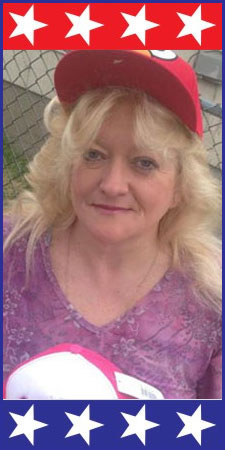 Kim D'Angelo of Niagara Falls
Favorite artists: Tom Petty, Pat Benatar, Foreigner
Favorite DJ: Slick Tom, Rick Walters
Platform: "Once a week to a local artist to dj 1 hour ,get reunion of artists that are local to play weekly on the show,free cupcakes once a week made by me free to anyone who wants 2 come get them,once a week me in my clown out fit 2 make some balloons free 2 any kids or paint there face,i may bring my karaoke machine i did sing journey an zeppelin for a band in the 80 s,im in law enforcement so i will keep the staff honest,an when i work 4 the bills i will try an get them 2 mention 97 rock,i will gave the station all ive got an hope its appreciated thank u all an plz vote kim the cupcake DANGELO ur next 97 rock prez……."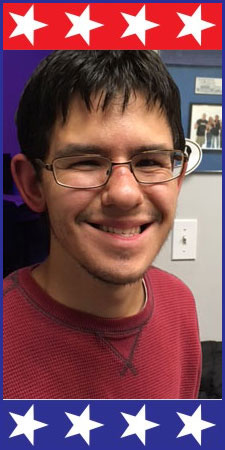 Garrett Michael Jezewicz of Lancaster
Favorite artists: AC/DC, Journey, Whitesnake
Favorite DJ: Carl Russo
Platform: "Make it Rock, And Play Rocken Tunes and Hang out at the studio with My Favorite 97 Rock Jock Carl Russo."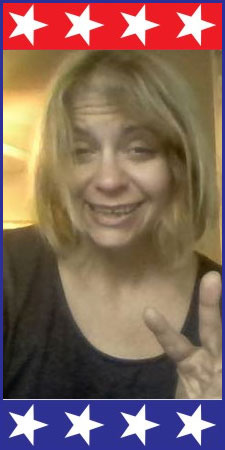 Monica Shields of North Tonawanda
Favorite artists: The Rolling Stones, Led Zeppelin,The Allman Brothers, The Who
Favorite DJ: Slick Tom
Platform: "What I would do to 97 Rock is "work" for you from home 365 days a year. My plan is such could have the potential to touch a lot of lives. Hopefully. Next, I would fire Rob . I kid you, You're alright in my book! To be honest, I will let "the spirit"move me . In the moment. God bless all of you!! And, thanks for answering "the calls". 🙂 Love you, Hi Carl, Sin whenever ya' need to.., Monica Mary Shields!"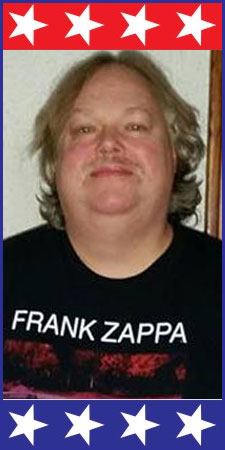 Scott Lundquist of Sloan
Favorite artists: Rush, Judas Priest, Frank Zappa
Favorite DJ: Carl Russo
Platform: Screaming guitars in every ear, and Rock n Roll on every radio!